Thanks again for purchasing my travel guide – as promised you can find all related links in this article, sorted by chapter. Each URL will open a new Tab to make returning to this list easier.
Did you find the book to be useful in order to prepare for your own trip? I'd appreciate a short review on Amazon to help me spreading the word.
Please make sure to sign up for my E-Mail List in order receive additional information on Chile & free updates of the book.
Backpacking in Chile – Quick Navigation
(per Klick direkt zum entsprechenden Abschnitt)

1) Preparation
2) Travel Guides
3) Carretera Austral
4) Torres del Paine
5) Additional Ressources
6) related Videos
Language & Communication (P.4) – my online laguage course:
Safety (P.4):
Budget & Prices (P.6) – my credit card:
Health & Insurance (P.7):
Entry Requirements & Custom Regulations (P.7):
Transportation (P.8):
Packing List (P.11-16):
San Pedro de Atacama – Accommodation (P.47)
Santiago – Accommodation (P.51)
Valparaiso & Vina del Mar – Accommodation (P.55)
Pucón – Accommodation (P.60)
Puerto Varas – Accommodation (P.64)
Puerto Montt – Accommodation (P.64)
Carretera Austral – Get In & Transportation (P.68/69)
Chaiten – Things to do (P.72/73)
Chaiten – Accommodation (P.74)
Puyuhuapi – Accommodation (P.79)
Coyhaique – Accommodation (P.84)
Puerto Rio Tranquilo – Tour (P.88)
Cochrane – Things to do< (P.94)/strong>
Villa O'Higgins – Things to do (P.98)
Villa O'Higgins – Accommodation (P.100)
Puerto Natales – Accommodation (P.105)
Punta Arenas – Accommodation (P.109)
Ressources
Transport (P.125)
Reservation Camping / Refugios (P.126-128)
Hotels Inside the park (P.130)
Food & Water (P.132-133)
Patagonia Packing List for Trekking & Camping (P.135-139)
Recommended Guidebooks
If you want to come well prepared, the following guides are great resources for Chile, which I also used during my time:


Chile & Easter Island, Lonely Planet

The Lonely Planet for Chile covers also Patagonia and lines out the most popular things to do, comes with small maps of the covered cities/villages and gives recommendations on restaurants and places to stay.

buy it on Amazon >>


The Carretera Austral: A Guide to One of the World's Most Scenic Road Trips

This is the first guidebook focused entirely on the magnificent and historic road uniting northern and southern Patagonia. In addition to practical advice, the book explores the mythical history of the region and the social and economic impact of the relatively recent connectivity to both Chile and Argentina.

buy it on Amazon >>


DK Eyewitness Travel Guide: Chile & Easter Island
The fully updated guide includes unique cutaways, floorplans and reconstructions of the must-see sites, plus street-by-street maps of all the fascinating cities and towns. The new-look guide is also packed with photographs and illustrations leading you straight to the best attractions on offer.
buy it on Amazon >>
Trekking Patagonia, Lonely Planet
This is a must if you plan to hike a few times in Patagonia as this guide has itineraries for several parts of Patagonia and even for Tierra del Fuego. It's a good resource for the popular spots like Torres del Paine and Chaltén as well as the lesser known parts. Highly recommended!
buy it on Amazon >>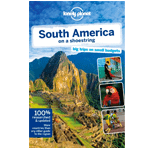 Lonely Planet South America on a shoestring
This Lonely Planet is also available as Kindle eBook and covers the highlights in Argentina, Bolivia, Brazil, Chile, Colombia, Peru etc. Essential info at your fingertips – including hours of operation, phone numbers, websites, transit tips, and prices.
buy it on Amazon >>
Lonely Planet Latin American Spanish Phrasebook & Dictionary
Get More From Your Trip with Easy-to-Find Phrases for Every Travel Situation – the Lonely Planet Phrasebook helps you to order the right meal with the menu decoder and comes with a 3500-word two-way dictionary. Moreover you'll find shortcuts, key phrases & common Q&As
buy it on Amazon >>
Recommended Maps:
I used the following maps to navigate during my time in Patagonia.




Other Guide Books from Me: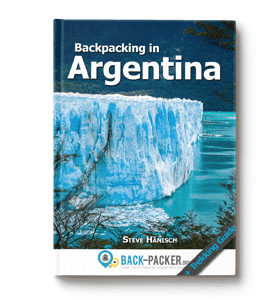 Backpacking in Argentina: my Argentina Travel Guide

This is a clear and concise 100 page eBook based on my experience from 3 months traveling through Argentina.

The book includes travel guides for the several regions of Argentina as well as a tiny trekking guide for El Chaltén and Ushuaia. Checklists are included to help make sure you don't forget anything.

This eBook is designed to save you a lot of time & make your trip much easier. Download it now and take it with you!
more information >>




Other Websites & Resources:
My Videos about Chile



Disclosure: This article contains Affiliate Links for services and products I'm using on my travels – therefore, I highly recommend using them. By using these links, you won't pay any additional fees but support me by providing more guides like this and doing so independently