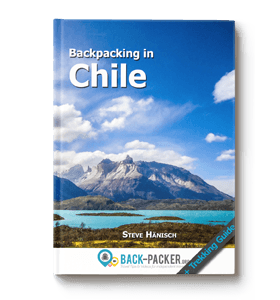 My Chile Travel Guide helps you to plan your trip to Chile and explore the most incredible places this country has to offer. Beside useful information on how to prepare I sum up practical tips on things to do, accommodations and outdoor activities you shouldn't miss.
Backpacking in Chile: My Chile Travel Guide is a clear and concise guide book based on my experience of traveling through Chile multiple times.
The book includes travel guides for each region of Chile as well as a complete trekking guide for Torres del Paine & the Carretera Austral, plus route itineraries. Checklists are included to help make sure you don't forget anything.
This book is designed to save you a lot of time & make your trip much easier.
---
Buy Now & Download Immediately
You can easily purchase this Book and the eBook-Version through Amazon. If you buy the eBook Version you can use it on your Kindle or any other electronic device such as your PC/Mac, Smartphone or Tablet (you only need the free Kindle App).
After the purchase you can download the eBook and take it with you wherever you go!

Buy the Paperback for $13.90

(incl. eBook for free – please attach a proof of purchase via eMail)

– or –
Buy the eBook for $8.90
---
What to expect
This eBook offers compact information for your very own Chile adventure:
Travel Guide featuring 18 Spots: Things to do, Tours, Restaurants etc. from the Atacama dessert down to Patagonia – practical tips, short and sweet
Compact information: Everything you need to know in matters of safety, best time to travel, budget, entry requirements and much more
Packing Lists: Complete South America & Patagonia Packing List
Route Planner: Map with all featured spots and travel times from point to point
Itinerary Suggestions: 4 sample itineraries featuring the best of Chile in 2-3 weeks
Carretera Austral Guide: Comprehensive information, tips and trekking guides to the most adventurous part of Chile
Hostel Recommendations: The best Hostels incl. personal reviews and links
Trekking Guide: Detailed trekking guide for Torres del Paine incl. preparation, itineraries for 'W' and Circuit trek
Insider Tips: My personal tips for you, off the tourist paths
Chile Resources: Helpful websites, blogs, recommended travel guides, maps and trekking guides to ensure best preparation possible!
---
How does it look like?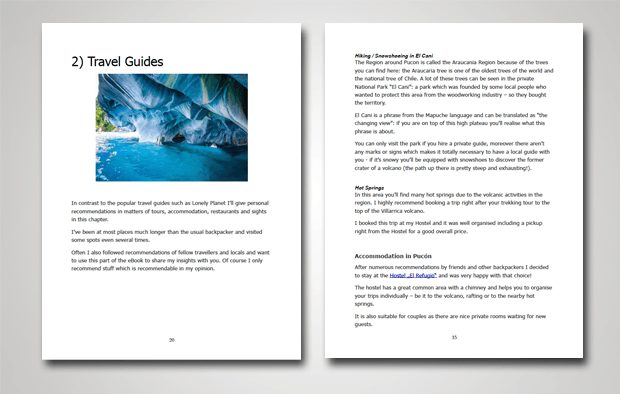 ---
What's inside?
So you want to know to it all? Find the Table of contents below to see what you get for your $$$!

1) Preparation
What to expect in Chile
The Weather in Chile
Top 5 in Chile
Language & Communication
Safety
Chilean cuisine
Budget & Prices
Health & Insurance
Entry Requirements & Custom Regulations
Transportation
Accommodation
My South America Packing List
2) Map & Itineraries
Route planner
(A) Volcanoes, Coast & Desert in 2 or 3 weeks
(B) Carretera Austral in 2 or 3 weeks
(C) Carretera Austral & Patagonis in 5 weeks
(D) Best of Patagonia for Trekking-Pro's in 3 weeks
3) Travel Guides
San Pedro de Atacama
Santiago
Valparaiso & Vina del Mar
Pucón
Puerto Varas & Puerto Montt
The Carretera Austral
Chaitén
Puyuhuapi
Coyhaique & Cerro Castillo
Puerto Rio Tranquilo
Cochrane & Tortel
Villa O'Higgins
Puerto Natales
Punta Arenas
My personal Chile Insider Tips
4) Trekking Guide Carretera Austral
Day hike to Cerro Castillo
Day hike to Mirador Altavista
Border Crossing Villa O'Higgins – El Chaltén
5) Trekking Guide Torres del Paine
Preparation
Patagonia Packing List for Trekking & Camping
Trekking Guide "W" Route
Trekking Guide "O" / Circuit Route
6) Additional Resources
Recommended Guidebooks
Recommended Maps
Websites & Blogs
About the Author
Backpacking in Chile
160+ Pages of practical tips, recommendations and detailed information for your Chile trip!
Information on how to prepare
Clear and concise travel guides
Packing lists
Route planner
Trekking guide Torres del Paine
comprehensive guide for the Carretera Austral
Hostel recommendations
Platform independent eBook

Buy the Paperback for $13.90

(incl. eBook for free – please attach a proof of purchase via eMail)

– or –
Buy the eBook for $8.90