After traveling Iceland for 14 days I put together this comprehensive Iceland Packing list to help you prepare for your own trip to Iceland.
I was traveling in October/November so I needed to prepare for moderate and freezing temperatures at the same time. Therefore this Iceland packing list is suitable for all seasons in most cases but I also point out differences where needed (e.g. in matters of jackets in summer vs. winter). The list provided is based on a video I produced which you can find at the end of this post.
Please be aware that I traveled by car and stayed in B&B's, Hostels and cabins along the way. If you plan on camping and/or trekking you can combine this list with my Patagonia Packing list as the weather is very similar. To make it easier navigating through this packing list I divided it into the following segments:

Iceland Packing List – Overview
1) Bags

A road trip by car is great as you don't need to drag around all your luggage. Nevertheless I focussed on packing things compact and split my luggage into a main bag (mainly clothes) and a day bag (mainly camera gear) to make it easier to organize things inside the car with my travel buddy:
Duffel Bag (main bag) – I choose a 60l duffel bag which is convertible into a backpack and still had some extra space left. As it is waterproof and comes with strong straps (on the side) it is also possible to put it onto a roof rack of a car.
alternatively: Travel Backpack – e.g. the Deuter Aircontact or the Osprey Farpoint Series are great choices
Camera/Drone bag (daypack) – for the day I had a lot of camera equipment so I choose a bag which can hold all my camera gear plus some food and drinks. If you don't have as much equipment you should go with the alternative.
alternatively: Ultralight Daypack – to use for day trips or small hiking tours
Packing Cubes – to organize your clothes (makes packing/unpacking way easier!!)
plastic bags – for shoes and dirty clothes
2) Underwear & Base Layer

The weather in Iceland is unpredictable so you can have all seasons in one day. For a country like Iceland I recommend to bring many layers to be flexible. Therefore I divided this Iceland Packing list in 3 layers: the base layer (comfort), the mid layer (warmth) and the shell/outer layer (water/wind protection). The amount of items is based on a 14 day trip so simply adjust it according to your trip length!
14 x underwear (boxer shorts in my case)
2 x long thermal underwear (sommer: 1 pair, winter: 3 pairs)
5 x normal socks (in winter: exchange for warm socks)
2 x hiking socks
4 x Sport T-Shirts (mid layer) – I recommend using breathable shirts (winter: longsleeves)
2 x thin jumpers (in summer: not/max 1 needed)
3) Mid Layer

As stated this layer is meant to keep you warm. Make sure to adjust it according to the season.
1 x Fleece Jacket – highly recommended for every season!
2 x thick sweaters (exchange for thinner ones in summer)
1 x bandana (winter: warm scarf)
4) Shell Layer

To keep you protected from wind and water this section of the Iceland Packing list is very important as the weather conditions can be extreme.
5) Foot- & Swimwear

Be prepared for slippery paths and the amount of natural hot springs with these items.
6) Toiletries

One shouldn't forget the essentials – you should extend it to your own liking.
7) Gadgets

Here I cover everything apart from camera gear I took with me on our trip along the Ring Road and beyond.
1 x Power Adapter with additional USB ports (in Iceland they have F-type plugs)
1 x Electric Outlet Wall Adapter – mostly there aren't enough plugs when you travel to charge your stuff, then a Power Cube comes in handy!
1 x phone charger
1 x portable power bank – to charge phone/cameras on the go
1 x Phone Car Mount – needed to use your phone as GPS e.g. with Google Maps
1 x portable Bluetooth speaker – great to listen to your own music along the road
1 x headlamp – useful in every season!
optional: Laptop & external HDD
8) Camera Gear

In order to film the video series I came with a lot of gear unlike the majority of visitors. Of course this part of the Iceland packing list can be shortened, therefore you can find a camera recommendation below which won't cost you a fortune ;)
1 x Sony A7 (I use the A7 II) – a great choice for photo and video enthusiasts, if you like it smaller and less expensive I highly recommend the Sony a6000!
1 x Sony RX 100 series (I use the "V" as my secondary cam) – mainly for videos in combination with the stabilizer
1 x camera stabilizer/gimbal – super smooth video footage
1 x GoPro – great waterproof camera for outdoors
1 x DJI Mavic Pro Drone – we used it for most of the aerial shots seen in the video
1 x GoPro Suction Cup – to mount the GoPro onto the car
spare batteries (I had 4 each)
chargers
Memory Cards (take a few with you) – you most likely need some good SD cards
ND Filters
2 x micro fiber cloths – to wipe your camera lense at all those waterfalls
1 x shower cap – to keep your camera dry in rain & waterfalls
9) Documents & Travel Insurance

Store your important documents safely.
passport / visa
(international) drivers license
plane / bus / train tickets
print of booking confirmation (Tour, Hotel, Transfer)
a good travel insurance – I often used the one from WorldNomads (see calculator below)
I highly recommend to get a good travel insurance as in almost every case your current health insurance won't work in most of the countries. During my time I used the awarded Travel Insurance by WorldNomads which you can easily purchase online for the exact time needed:


10) Travel Guides
If you want to come well prepared the following guides are great resources to take with you (mostly also available as eBooks) for your time in Iceland:


Lonely Planet Iceland
The Lonely Planet is the #1 best-selling guide for this country! It comes with many maps, highlights & itineraries to help plan your trip. Available for Kindle and/or the Kindle App for Smartphones and Tablets, too!
>> get it on Amazon




Frommer's EasyGuide to Iceland
The easy guides of Frommers cover all the basics needed without an overload of information – this way they are easy to read, lightweight and straight to the point. It also comes with a removable map which is great for planning your travels!
Bonus) Video: My Iceland Packing List
In one of my episodes from the Circling Iceland video series is all about packing – with all items listed here and more in-depth description about those:


Anything to add to my Iceland packing list?
I wrote this Iceland packing list based on my experience in of traveling Iceland. If you have been to Iceland as well and you have some great tips and recommendation please feel free to leave a comment below. If you liked the list and found it helpful, I would appreciate if you could share it with your friends or link to it from your homepage!

Disclaimer: This Iceland Packing List contains Affiliate Links for services and products I'm using on my travels – therefore I can highly recommend using them. By using these links you won't pay any additional fees but support me to keep this site running!

Like it? Pin me!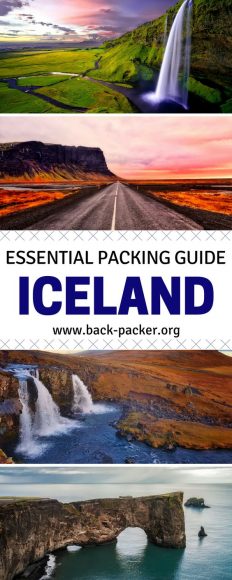 This post is also available in:

German