In this post I put together all information needed for Backpacking in Sri Lanka based on my own experience as well as advice and discussions with Sri Lanka experts and locals.

I visited the island 2 times already and had the chance to get to know a lot of places in Sri Lanka while co-author Caroline even spent several weeks there. Please use this navigation to get to the parts you are interested in:
[divider]

Backpacking in Sri Lanka – Overview
1) Reasons to visit Sri Lanka
[divider]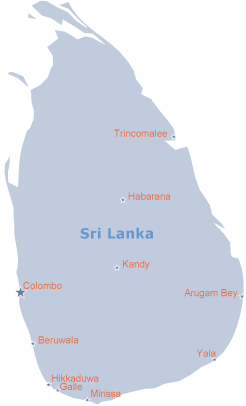 Regrettably, Sri Lanka is almost unknown in the western hemisphere and I didn't know much about the multitude of things to do offered on the comparatively small island before my arrival either.

First of all it's important to know that Sri Lanka is a year round destination as the monsoon divides it into two seasons. You should choose the right corner of the island accordingly (you can find info on the best travel times in the linked articles about the region). For Backpacking in Sri Lanka, the best months are the transitional months from January to April and August to September.

You can expect a variety of things to do: Starting with wonderful beaches, amazing diving spots, national parks with impressive fauna (elephants, leopards, monkeys etc.) to tea plantations, huge temples, fortresses and must-see cities (such as Galle), Sri Lanka has something to offer for everyone.

Last but not least: Sri Lanka is a very affordable tourist destination. Even though you pay more as a tourist than the locals do, it is possible to travel on a small budget.

To give you an overview, I summarized my personal highlights in the following article:

[divider]
Sri Lanka is divided in two parts by language. The north mostly speaks Tamil while the rest of the country usually uses Sinhalese. Both languages are completely different.

As in most Asian countries, it is possible to get by with English in most hostels and with most tour providers – additionally Sri Lanka was an English colony (under the name of Ceylon) for more than 100 years and therefore a lot of locals in the cities speak at least some basic English (depending on the education).

The locals are very friendly and always have a smile for you. Should there be any communication issue you can often get by with hand signs. It should be noted that similarly to other Asian countries many people avoid saying "No" clearly. Instead you will often get a smile and evasive answers to questions 😉
[divider]
Generally speaking, Sri Lanka is one of the most affordable countries. In tourist hot spots, however, reality shows steeply rising prices for foreigners. Often locals pay less than tourists. By planning your trip independently it is possible to find a good balance and save a substantial amount (even luxury resorts are affordable!).

To give you an idea:
Guesthouses often offer overnight stays for around 10$
a meal in a restaurant often is round about 5$
a long train trip costs around 1-2$ (2nd class)
long distance bus trips often cost less than 5$
Prices in resorts and restaurants for tourists are of course substantially higher.

I always withdrew cash with my VISA card. Withdrawals in the local currency (Sri-Lanka-Rupee, LKR) have been no problem.
[divider]
Travelling through Sri Lanka means: a lot of rice and curry! You should note that most dishes are very spicy for Europeans – in Hotels and Resorts you often find toned down versions of local dishes.

Traditional dishes are rice and curry (in combination with fish/meat), Dhal-Curry (Curry with soft lentils), Egg-Hoppers (typical breakfast dish – pancakes with egg in the middle, often with spicy side dishes), String Hoppers (Breakfast, noodle pita – often with curry), fried rice, fresh fruit.

As for alcoholic beverages, arrack (distilled spirit from palm tree wine) is the national drink. Then there is the famous Ceylon tea and as one of the most famous drinks you should try the juice of the King Coconut (freshly available in street stalls). Otherwise, people here like drinking beer – Lion beer is the most popular brand and the one I liked best, too. Another drink I highly recommend is the Ginger Beer from EGB (non alcoholic!).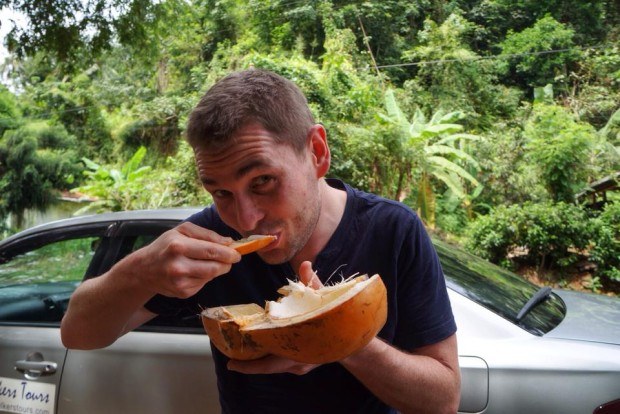 [divider]
Even though Sri Lanka is a poor country, crime rates are very low – the people here are known for being peaceful and friendly. Still, you should take care of your belongings. For women, it is advisable to travel in company to avoid being harassed (in crowded areas).

Following the general travelling advice is always a good idea:
Before embarking on your trip I always advise to check your vaccinations. A certain base level (tetanus, diphtheria, hepatitis A & B, rabies, typhus) is always recommended. Should you come from a region with yellow fever, a vaccination against it is mandatory. Please consult with your physician at best already six months prior to your journey.

The north and east regions of Sri Lanka have a medium risk for Malaria. There is also the additional risk of Dengue Fever in coastal regions throughout the monsoon season. In both cases it is advisable to take precautions to avoid mosquito bites (see luggage & packing list).

I always highly recommend to get a good travel insurance. Your normal health insurance does not usually cover travel in Asia, therefore you need to obtain a travel insurance for your trip:
[divider]
Yes, you need a visa to enter Sri Lanka which you can apply for easily online – for Europeans, North Americans and Australians this will cost about 35$. The visa is valid for 30 days and you also need to bring your passport. Getting a visa at the airport is possible too, but costs more.

If you want to stay longer than 30 days you can get an extension in Colombo for 25$, make sure to bring a passport photo!
[divider]
For long distances you should go by bus or train. In cities, usually Tuk-Tuks are the best choice but you can also use Uber here. Busses and trains travel quite slowly as the infrastructure is still in the making after the long civil war.

Using the train, however, often is one of the most beautiful ways to travel. Usually, there are three available classes and special Intercity trains. Intercity trains are faster, have less stops and are scheduled less often. It is recommended to book well in advance. Domestic flights often can be booked relatively cheap as well – I used Helitours and saved a lot of travel time between Trincomalee and Colombo for just 50€!


As for luggage: Try to pack light. A 44-65L backpack should suffice completely. Should you still be on the lookout for a backpack, I recommend the allrounder from Deuter.

Make sure to also checkout my packing lists. Aside from basics, I also compiled special lists for longer trips and outdoor adventures:
[divider]
Colombo is the starting and endpoint of every trip to Sri Lanka. Upon arrival and before your return flight, I suggest staying in the capital for at least one night.

A good place to crash for the night is the Cinnamon Red – perfectly located, modern facilities and…the best: a rooftop pool overlooking the city. Quite stylish! From here, you can easily go to explore Colombo. I recommend the colonial historical city centre and a short tour through the bars!

[divider]
Habarana is the perfect base for discovering the three highlights in the northern centre of the island: Kaudulla National Park which is perfect for elephant safaris, the rock fortress of Sigiriya and the ancient city of Polonnaruwa. See the related video to get an idea of the area.

[divider]
If you prefer tea over coffee, you will love the highlands with their tea plantations surrounding Nuwura Eliya. In Kandy you can go on a bird safari and visit one of the most important Buddhist sites in Asia: the Tooth Temple!

The central highlands are a good area for hiking with the Adam's Peak as the highlight. Unfortunately I did not manage to do that hike but is on my list for my next time backpacking in Sri Lanka!

[divider]
Trincomalee is a wonderful place for people who love the ocean: You can go on whale and dolphin watching tours, dive or snorkel in the colourful reefs of Pigeon Island. A great spot for a relaxed beach vacation!

[divider]
If you are up for a classic beach holiday, the west and east coast is your happy place – you can even combine it with leopard safaris, temple visits, patting turtles, surfing and other activities.

To help you with planning the best possible trip, Caroline and I collaborated to gather information about the seven best beaches of the country, including all sights nearby with awesome pictures:

[divider]
Booking tours in advance
Most tours can be booked directly at the location but if you prefer to have everything sorted before you go I suggest looking up tours on GetYourGuide – you can find everything there from short trips to multi-day journeys with all the important highlights of Sri Lanka:


Travel Guide Books for Sri Lanka
If you want to come well prepared I suggest looking into the following guide books:


Lonely Planet Sri Lanka
The Lonely Planet Sri Lanka is the best sold guidebook for Sri Lanka. Highlights and itineraries help you tailor your trip to your personal needs and interests. It comes also with more than 50 maps. Available for Kindle and as Paperback.
> buy it on Amazon



The rough guide to Sri Lanka
The Rough Guide to Sri Lanka is the most user-friendly travellers' guide to this fascinating country. Each chapter includes travel information, hotel and restaurant listings, sections on food and language to media and sport, and thoughtful background on the environment, politics, culture, music and history.
> buy it on Amazon


[divider]
I created a tiny series of videos about all the spots mentioned in this guide plus one episode about the Maldives. Lean back and see how I experienced this beautiful country:


[divider]
Anything to add to Backpacking in Sri Lanka?
I wrote this travel guide based on my experience in Sri Lanka with the help of Caroline. If you have been to Sri Lanka as well and you have some great tips and recommendation please feel free to leave a comment below. If you liked the guide and found it helpful, I would appreciate if you could share it with your friends or link to it from your homepage!


Disclaimer: This post contains Affiliate Links for services and products I'm using on my travels – therefore I can highly recommend using them. By using this links you won't pay any additional fees!