In this post I put together all information you need for Backpacking the Balkans based on my own experience of 6 months living and traveling this region in the South East of Europe.
I moved to Sofia in Bulgaria for 6 months and used it as my base to explore altogether 7 countries in the Balkans: Bulgaria, Macedonia, Albania, Montenegro, Croatia, Bosnia & Herzegovina and finally Serbia.
---
Backpacking the Balkans – Quick Navigation
---
1) Why should you travel the Balkans?
The Balkans are a fascinating, very diverse region in Southeast Europe which had to deal with a lot of conflicts in recent history – the Breakup of Yugoslavia and the resulting Yugoslav wars made it almost impossible to travel the region from 1991 to 2001.
A lot has changed since those darker days and most of the countries are back on track, the reconstruction is in its final stages and the tourism is on the rise. Changes can also be seen in the countries which haven't been affected by the wars – Bulgaria became part of the EU, developed it's infrastructure and is seeing an economic growth, even though this growth decreased recently.

Due to the fact that only a few regions in the Balkans are affected by mass tourism a Balkan Tour is very attractive as most of the beauty is still totally off the beaten European tourist paths: low prices, warm-hearted Locals, tasty food and loads of beautiful landscape is just waiting to be discovered by you.

The best time to travel the Balkans is in most cases the spring and summer season – especially if you want to go for a swim at the coast. Nevertheless you can also spend your winter in one of the winter resorts like Bansko in Bulgaria. City Breaks are an option all year round: the capital cities are great spots in all countries mentioned (except Podgorica in Montenegro!).
---
2) Language & Communication
Unfortunately the countries within the Balkans don't have a common language and it can sometimes be quite hard to get around with English. Moreover you should consider learning the Cyrillic alphabet for Serbia, Macedonia and Bulgaria.

Like in many other European countries you are fine with English in Hotels/Hostels and with Tour operators – often also basic English is spoken by Locals, most likely in touristic hot spots.

In general people in the Balkans are very welcoming, friendly and will help you getting around if you are running into problems. I often used gestures and hand signs to communicate and have been quite successful with it – in my case I could even use German to communicate. As the Locals are very hospitable they sometimes even invite you for drinks or dinner after you met them!
---
3) Budget & Prices
The Balkan region is very budget friendly compared to Western Europe, though there are huge differences between the countries and the popular tourist destinations (the places off the tourist paths are much cheaper).
To get an idea: one night in a dorm is around 8-10€ (Bulgaria/Macedonia/Bosnia/Serbia), 12-14€ (Montenegro), 16-20€ (Croatia); a proper meal in a restaurant will cost you 4-6€ (Bulgaria/Macedonia/Bosnia/Serbia), 8-10€ (Montenegro), 10-15€ (Croatia); a long-haul bus ticket is between 20€ – 30€. In hotels and restaurants at touristic hot spots the prices are usually higher.

I withdrew money with my german DKB credit card which always worked out very well and without any costs. Given the fact that each country has its own currency you should also focus on using a credit card and only withdraw the amount of money you'll need for the day.
4) Local cuisine
Given the number of different cultures in such a small area you can expect to have a big selection of various food to try on your trip. One thing all countries have in common: they love meat and hearty food. Nevertheless you shouldn't miss the local food, also Vegetarians will find good options as the Balkans are also well known for their fresh salads.

The most common dishes are: stews, salads, cevapcici, grilled meat (preferably pork) and Ottoman influenced cuisine such as börek, köfte and baklava.

If it comes down to drinks the Rakia/Rakija (brandy) is a common drink but also the tasty wines (especially red!) are recommendable. Apart from this the local beers are good, too.
---
5) Safety & Visa
In general the Balkans aren't more dangerous than other European destination – be aware of pickpocketing and other petty crime.
During the 6 months down there I never had bad experiences – maybe also because I followed the general safety rules. Please follow the instructions given in the following article to travel more safely, too:
Regarding the entry requirements you usually don't need a Visa for the countries in the Balkans if you're planning to stay less than 90 days. Of course you'd need a valid passport and at least one free page left for stamps.

Please always check the official Foreign travel advice for your country of residence in matters of safety and the entry requirements:
---
6) Health & Insurance
In some areas of the Balkans the medical and dental facilities are very poor, there you shouldn't drink water from the tap (especially in countries like Albania). Make sure you have adequate travel health insurance and accessible funds to cover the cost of any medical treatment abroad, evacuation by air ambulance and repatriation.

I highly recommend to get a good travel insurance as in almost every case your current health insurance won't work in most of the countries. The Balkans are a beautiful region with plenty to see and explore, but unexpected situations can arise. With SafetyWing, you'll have coverage for medical emergencies, trip interruptions, and even emergency medical transportation. Plus, their affordable and flexible plans make it easy to find the coverage that fits your needs and budget:

2 months before you leave you should consult your doctor to check your vaccines. The earlier you take care of this the better as some vaccinations need a few months to have the full protection. Find more information about recommended vaccines for the country you intend to visit:
---
7) Transportation & Luggage
The common mode of transportation for long distances is the bus. In cities taxis are another fairly cheap option. The travel times within the countries are sometimes quite long as the infrastructure isn't the best, you also need to plan some waiting time for the border crossings (especially during holiday season and on the weekends).
a) Public Transport: Bus
Bus tickets can be purchased at the terminals or in the offices of the bus companies – the following website helps you to research most of the connections within the Balkans (consider that only major connections are listed!):
b) Car Rental
The most flexible option would be to rent a car. For this you need to make sure that you choose a package where you are allowed to take your rental car across the border. Furthermore consider to do a round-trip as it is cheaper to drop-off the car at the same spot where you picked it up in the first place.
Makes sure to check the meta-search of RentalCars (best to choose the airport where you fly into as the pick-up location) for prices and availability of the different local providers:
c) Air Travel
Sometimes it is worth looking into flights if you want to cover longer distances and save some time. Some routes are quite cheap as there are already quite a few low-cost-carriers offering good prices on eastern Europe.
What to pack for your Balkan trip
Regarding your luggage: try to pack light, a 44-70l backpack is totally enough for your trip. I put together a universal Packing List especially for longer trips (even though its for South America it can be easily used for the Balkans as well):
If you need recommendations for outdoor & camping gear you're able to find it here:
---
8) Bulgaria: World Heritage Sites, Mountains, Beaches
I spent most of my time in Bulgaria which changed the image and the stereotypes I had in my mind before arriving. There are many great places apart from "Sunny Beach" and "Golden Sands". Do you still need reasons to convince yourself? Here you have 12:
Particularly in-country you will find many great places to visit: the Rila monastery, the beautiful old town of Plovdiv, the fortress and old town of Veliko Tarnovo, the seven Rila lakes, the ski resort of Bansko and last but not least the multifaceted capital Sofia:
The Bulgarian Black Sea coast also has more to offer than the mentioned beaches, cheap alcohol and party – Sozopol & Nessebar are amongst the oldest cities of the country and their location as well as their old towns are stunning.

Varna is one of the biggest cities and very urban – if you drive out of the city you can find some true gems such as Raponggi Beach. Furthermore the coast north of Varna is recommended as you can find more places off the path:
Cape Kaliakra, the Thracian Cliffs (inside the Thracian Cliffs Golf & Beach Resort) and the botanical gardens in Balchik:
---
9) Macedonia: Small & Proud
Skopje is located just a few hours by bus east from Bulgaria. There is a daily bus connection to Sofia, tickets are very budget friendly. The territory of Skopje has been inhabited since at least 4000 BC and offers sights from different stages of this long history:
Beside the capital you should visit Ohrid and the Ohrid lake which are the most popular tourist attractions of the country!


---
10) Albania: Undiscovered, Wild & Beautiful
Are you searching for a place which is really off the beaten path? Albania is your pick then! The food is great, the prices are super low and the capital is known for it's lively nightlife.

Tirana is located in the center of the country and has a direct bus connection to Skopje (the journey takes 8h). Beside the sights in Tirana you should consider a visit to the Mount Dajti where you can enjoy the best views to the city:
In Albania you are also able to discover great beaches – they are wild and less crowded as there is almost no touristic infrastructure. The following articles are from other good Blogs and offer more information on Albania and some great photographs to get an impression of the country:
---
11) Montenegro: Fjords & Picturesque Old Towns
Alright let's move west and to the Mediterranean: the coast of Montenegro is simply mind blowing! The coastal villages and towns are well connected and easy to get to via bus or car, the official currency is the Euro. If you stay away from the popular spots and stay in one of the smaller villages nearby you should be able to get some good deals:
Beware: Podgorica is the capital of Montenegro but not really worth a visit – there is a reason why it is the least visited capital in Europe!


---
12) Croatia: Medieval Shooting Locations
Croatia is without a doubt the most expensive country of the Balkans but also one of the most beautiful. This is why I only went for a short visit to Dubrovnik which is located in the very south. There is a reason why so many tourists from all over the world are visiting this place:
As said also the rest of the country is worth a visit – beside the coastal towns you should consider the capital Zagreb. If you want to come well prepared the following are great additional resources with in-depth info for your time in Croatia – not only for Backpackers but also for independent travelers with more budget: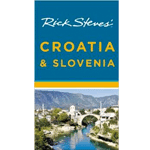 Rick Steves' Croatia & Slovenia
As host and writer of the popular public television series Rick Steves' Europe, and best-selling author of 40 European travel books, he encourages Americans to travel as "temporary locals". Rick's candid, humorous advice will guide you to good-value hotels and restaurants. He'll help you plan where to go and what to see, depending on the length of your trip.
Lonely Planet Croatia
Lonely Planet Croatia is your passport to all the most relevant and up-to-date advice on what to see, what to skip, and what hidden discoveries await you. Colour maps and images throughout. Highlights and itineraries show you the simplest way to tailor your trip to your own personal needs and interests
buy it on Amazon >>




---
13) Bosnia & Herzegovina: Moving History
In comparison to its neighbors Croatia and Montenegro the country of Bosnia & Herzegovina is not really high up on the list of many tourists. Time for a change!

Sure: in the 90s Sarajevo hasn't been a good option due to the Siege of Sarajevo. It took a long time for the city to recover from those dark years. Recently more and more tourists rediscover the city and are fascinated from the historic old town, the rich history and the hearty food.
When heading south you should plan a stopover in Mostar!


---
14) Serbia: Party at the Danube
Also Serbia has an eventful history and its capital Belgrade played a major role in the Yugoslav wars. Present-Day Belgrad is characterized by dynamic and change resulting in an interesting, vibrant mixture:
Novi Sad is the second largest city and also THE student city which leads to a lively nightlife. Once a year this is where the popular EXIT Festival takes place at the Petrovaradin fortress, also one of the biggest summer music festivals in Europe!
---
15) Guided Tours & Sailing
If you don't know where to start you can easily combine your independent trip with a guided tour. This way you don't need to bother about the organization, you get to know more about the country and you can travel with like-minded people.
After working with G Adventures in South America I can highly recommend their tours as their philosophy and focus on sustainable travel are in line with my personal values. With many years of expertise you can expect well organized, fun trips in small groups:
---
16) Video Documentary "The Balkan Road Trip"
I went on a road trip through 7 countries in the Balkans with my friend Clemens – we traveled to Bulgaria, Macedonia, Albania, Montenegro, Croatia, Bosnia & Herzegovina and Serbia within 4 weeks and filmed these tiny documentaries picturing our experience, highlighting the best things to do at each spot:



Episode listing:
---
More about Backpacking the Balkans?
I wrote this guide for you based on my 6 months traveling the Balkans – if you have any questions or additional tips feel free to comment below. If you found this guide to be useful it would be awesome if you could share it or if you would link to it from your website!


Disclaimer: This post contains Affiliate Links for services and products I'm using on my travels – therefore I can highly recommend using them. By using this links you won't pay any additional fees!
---
Helpful? Pin Me!