In this travel guide I list the most recommendable things to do in Dubrovnik. Moreover I point out some cool restaurants and places to stay in Dubrovnik to help you planning.
Compared to it's neighbors Croatia is much more touristy and expensive, especially if you focus on the popular destinations along the coastline. We spent 5 days in Dubrovnik after our time in Montenegro before we moved on to Sarajevo – here is how you can make the best out of your time!
[box type="info" ]Getting ready for your trip?
My Packing List will help you to save valuable time during your preparation. This guide is part of my Backpacking in Europe guides – make sure to check it out to find more cool recommendations![/box]
1) Things to do in Dubrovnik
The following list of things to do in Dubrovnik is my personal selection of recommended activities you can easily fit into a multiday-itinerary.
a) Old town of Dubrovnik
The landmark of Dubrovnik is "Stari Grad" (= old town) which is also part of the UNESCO world heritage. Even though the so called "pearl of the Adriatic" has been involved in the balkan wars it is still well preserved – all caused damages have been fixed very quickly.

Due to it's excellent location Dubrovnik os one of the most popular tourist destinations in this region and has been selected as one of the filming locations for the popular series "Game of Thrones". When you go for a walk through the old town you'll recognize many spots which have been used for scenes taking place at "Kings Landing".

Exploring the old town on your own is completely free of charge but I recommend taking a city map with you (e.g. inside the guide you can find below) to explore also the hidden gems off the main streets!


[divider]
b) Walk the Walls
A walk on the city walls of Dubrovnik offers a whole new perspective. Plan around 2-3h for this experience which is best in the early morning or the late afternoon (otherwise it's to hot up there). Take some water with you and start at the main entrance.

Costs: The admission fee is 100 KUN but it is worth it – moreover the visit of the Lovrijenac Fort is included.


[divider]
c) Fort Lovrijenac
The Fort is located right opposite the old town on a small peninsula. Due to its location high above you can enjoy a great view to the old town from there!
[divider]
d) Kayak Tour
Right next to the entrance gate of the old town you're able to Kayakstationbook kayak tours and discover Dubrovnik from the water.


[divider]
e) Beaches and Bays
A small beach can be found on the eastern side of the old town but you should bring some swimming shoes as it is a very rocky/stony beach. Another opportunity is to use a small bathing site below "Cafe Buža" right at the city wall. Here you are also able to do some cliff jumping.

If you want to spend the whole day relaxing and bathing I recommend a trip to the nearby Lopud or Lokrum islands – you can take a water taxi from the harbour in the old town to get to there.


[divider]
f) Take the Cable Car to the top of Mt. Srd
The cable car station can be found right next to the old town. It takes you up to the peak of the Srd mountain where you can enjoy the best view in Dubrovnik!

Costs: The return ticket is 100 KUN – if you want to save the money you are also able to walk up the mountain


[divider]
2) Restaurants, Bars & Nightlife
As the price level is quite high in the old town I limited the selection to the most recommendable places to eat, drink and party in Dubrovnik
a) Restaurant Dubravka
This restaurant is located right in front of the gates to the old town and offers great food and a relaxed atmosphere. Budget wise it's a pretty good deal for this place but you should calculate some waiting time if you didn't make a reservation. We've been here twice and liked it!
b) Cafe Buža
Remember the cliff jumping? This is the Cafe which is located right above the swimming place at the city wall – simply follow the signs saying "cold drinks" and walk through a hole in the wall to get there.

Though it's pricey the view is worth spending the extra money for a cold beer!
c) Cafe Bar Irish Pub Karaka
As we visited Dubrovnik during the World Cup we were sent to this Pub to mingle with other football fans in the old town. We liked the bar and the fact that it has been the one with the best beer prices in the area!

Adress: Izmedu Polaca 5A
d) Club Revelin
Probably the night club in Durbovnik – located right within the wall next to the harbour. Especially in summer you are likely to find popular DJ's behind the turntables, the dance floor is massive!

Only the entrance fee is a bit high as you have to calculate around 150 KUN for a normal club night.

Address: Sv.Dominika 3

[divider]
3) Accommodation in Dubrovnik
We stayed in a private at Hostel Marker and would recommend you to do the same as the location and the guy who runs it is simply the best choice in town. Marko is full of great recommendations, very welcoming and willing to help you during your stay to make the best out of it.

Find more great hotels and hostels, reviewed by other travelers on the Dubrovnik overview at Booking.

[divider]
4) related travel guides
If you want to come well prepared the following are great additional resources with in-depth info for your time in Croatia – not only for Backpackers but also for independent travelers with more budget: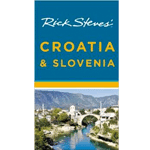 Rick Steves' Croatia & Slovenia
As host and writer of the popular public television series Rick Steves' Europe, and best-selling author of 40 European travel books, he encourages Americans to travel as "temporary locals". Rick's candid, humorous advice will guide you to good-value hotels and restaurants. He'll help you plan where to go and what to see, depending on the length of your trip.
Lonely Planet Croatia
Lonely Planet Croatia is your passport to all the most relevant and up-to-date advice on what to see, what to skip, and what hidden discoveries await you. Colour maps and images throughout. Highlights and itineraries show you the simplest way to tailor your trip to your own personal needs and interests
> buy it on Amazon


[divider]
5) Get out
The bus station of Dubrovnik is located on the other side of town but there are direct bus lines to get there from the old town (1, 1A, 1B und 3).
to Montengro: There is a regular bus connection to Kotor and Budva with some stops in between. The trip to Kotor takes around 2h and is around 18€.

to Bosnia & Herzegovina: There are two bus connections to Sarajevo (travel time is 6h) and Mostar (3,5h) each day. For the trip from Dubrovnik to Sarajevo I paid 186 KUN.

to Split: Every 3h a bus is leaving from Dubrovnik – it takes between 4h and 4,5h depending on the time of the day.

You can find all bus connections on the website of Balkanviator, tickets can be purchased at the bus terminal – I recommend doing it in advance to have a relaxed travel day.

[divider]
More cool things to do in Dubrovnik, Croatia?
I wrote this guide for you based on my experience – if you have any questions feel free to comment below. If you found this guide to be useful it would be awesome if you could share it or if you would link to it from your website!

Disclaimer: This post contains Affiliate Links for services and products I'm using on my travels – therefore I can highly recommend using them. By using this links you won't pay any additional fees!