The Monte Fitz Roy Trek in El Chalten is the most beautiful hiking trail in southern Patagonia apart from Torres del Paine. Use this hiking guide and trek the national park Los Glaciares on your own with the hiking trails and info provided below.
Hiking Guide Cerro Torre & Mt. Fitz Roy – Quick Navigation
(click to get to the related chapter)
1) Get in, money, best time
Depending on how much time you have: if you do Backpacking in South America the long-distance bus is the cheapest but slowest option, via plane it's much faster.

The nearest airport is located in El Calafate which offers direct flight connections to Buenos Aires regularly – Aerolíneas Argentinas has usually the best deals traveling within Argentina. From El Calafate you can go by bus to El Chalten in about 2,5h. But: use the time in Calafate to withdraw money as you'll find only 2 ATMs in El Chalten which often run out of money in peak season.

The best time for trekking in El Chalten is in summer – the season starts in October and lasts until April. Before and after the season most hostels/hotels and restaurants are closed.

2) Accommodation
You should definitely stay in the relaxed village of El Chaltén rather than the busy and more touristy El Calafate. Though the Internet connection is bad and most Hostels don't offer breakfast it is much more enjoyable and you're right at the starting point for all treks.

I stayed at the Hostel Aylen Aike on my first visit and highly recommend it for budget travelers as the owner is awesome and loves helping you out in planning and organizing your treks or even climbs – the hostel offers small and big dorms and is nicely located.

During my last visit I stayed at Lo de Guille, a family run B&B (one of the few places in El Chaltén which offers a basic breakfast). Very friendly staff & affordable prices, comes with a locked storage room (to use when you are trekking) and a kitchen for everyone to use.

In case the Aylen Aike or Lo de Guille is booked out for your dates make sure to check out the other Hostels listed on Hostelworld or have a look at the El Chaltén overview page on Booking for other options such as B&B's and Hotels. I highly recommend booking in advance as spaces fill up quickly during the hiking season!

3) Cerro Torre Trek (24km, 6h, easy)
This is an easy day hike where you don't have to be an experience hiker – take some sunscreen, water and food. After around 3h you'll be at the Laguna Torre.

The starting point is located south-west of El Chalten next to the river Rio Fitz Roy. The trail is well marked and ascends smoothly from El Chaltén:

After around 1h you'll arrive at the viewpoint "Mirador Torre" form where you are able to see the towers for the first time. Follow the trail downhill and through flat terrain following the signs "Laguna Torre" until you arrive at the lagoon.

You made it – enjoy the view! From here you have 2 possibilities to get closer to the glacier: left across the gravel or right to the viewpoint "Mirador Meastri".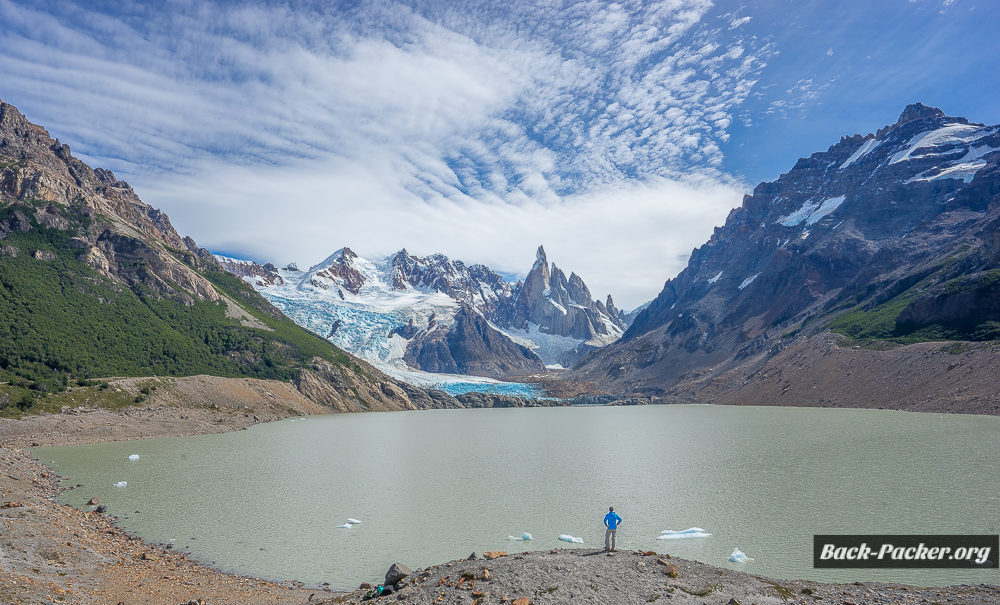 4) Monte Fitz Roy Trek (26km, 8h, medium)
The most beautiful trail gets you close to the Monte Fitz Roy, the destination is called "Laguna de los Tres". You should start at dawn in El Chalten to avoid the day tourists from Calafate. Be prepared as the trail is pretty tough at the end!

The starting point can be found in the north-west of El Chalten and is hard to miss (big signs). From there the only way is up, after 1h you reach the viewpoint "Mirador Fitz Roy" (left hand side). Continue after a little break and follow the signs to the Camp "Poincenot".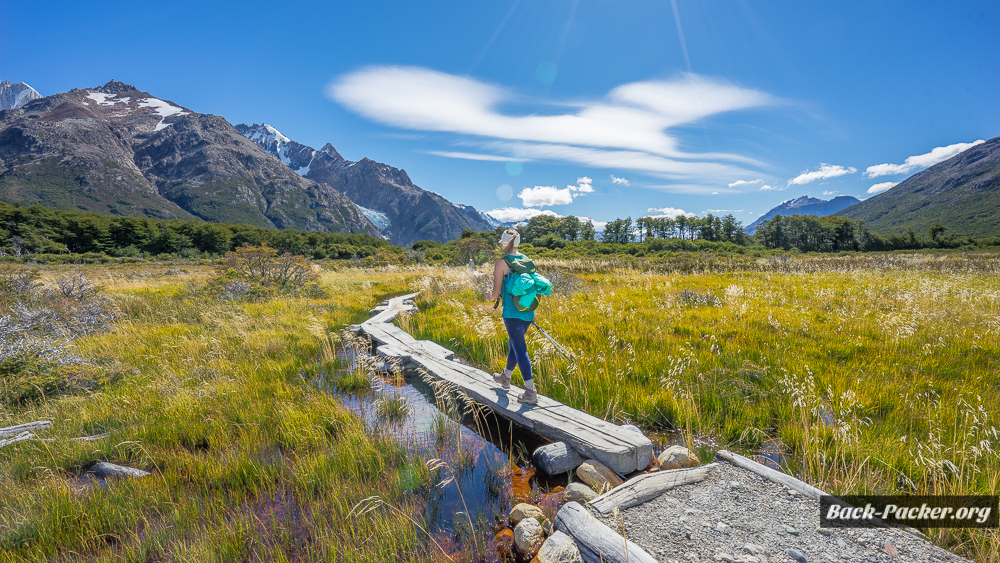 After a flat section you'll arrive at the camp which you have to cross – then you cross some small rivers and get to the final and steepest part (use the chance to fill your water bottle at the river). Follow the steep trail over huge rocks up to the lagoon.

Isn't it beautiful up here? Enjoy the view and use the chance to go to the small hill left hand side of the "Laguna de los Tres" to see another lagoon: the "Laguna Sucia"!


5) Circuit Trail Fitz Roy & Torre (34km, 2 days, medium)
Due to the well marked hiking trails you can easily connect both treks to a multi-day itinerary with camping.

Day 1: Follow the instruction in 4) and leave your equipment at the Camp Poincenot before heading up to Laguna de los Tres, enjoy your day up there and spend the night at the camp.

Day 2: Take it easy in the morning and head in the direction of El Chalten, shortly afterwards you'll get to a junction which you have to follow right to "Laguna Torre". The distance to Laguna Torre is about 7km, easy doable in around 2h – the trail leads you through flat terrain passing Laguna Madre, Laguna Hija and Laguna Nieta. At the next big junction you keep right and arrive at Laguna Torre at lunch.

If you want you can extend for a 3rd day by camping at the nearby Camp "De Agostini" – or you head back to El Chalten (3h).

6) What to wear & equipment
Believe it or not: Outdoor equipment is very expensive in South America – therefore I recommend buying the equipment before leaving.

I made a full packing list with everything you need based on my experience in El Chalten and the other parts of Patagonia:
I found the following items most valuable given the harsh conditions in Patagonia:
I also always advise on getting travel insurance as it is important to have you covered in case anything happens throughout your trip. I recommend the insurance by SafetyWing which has always been a reliable choice.

7) Guided Trekking Tours
Another option is to book a complete tour – this way you can leave the organization, accommodation, transportation and navigation on the trails to local experts. Though you pay more you'll get the full package this way including knowledgable guides.

After working with them in South America and Africa I highly recommend the tours offered by G Adventures as their philosophy and focus on sustainable travel are in line with my personal values. With many years of expertise you can expect a well organized, fun trips in small groups with like-minded travelers:
8) My video from El Chaltén
As usual I produced a video about my time in El Chaltén – I show all the treks mentioned in this article:


More Patagonia guides
If you want to explore more spots in Patagonian make sure to check out my related articles:
Have you done the Monte Fitz Roy Trek?
Have you been to El Chaltén yourself? Do you have any recommendations and tips regarding Trekking in El Chaltén you want to share with us? Feel free to put them into the comment section below!

Disclaimer: This article contains Affiliate Links for services and products I'm using on my travels – therefore I can highly recommend using them. By using this links you won't pay any additional fees!
Helpful? Pin Me!