If you're traveling to South America in summer you should have Patagonia high up on your list of things to do. With this list I show you the best places to visit in Patagonia and give you more information how to plan a trip to this gem in South America!
Before we get into this list let me answer a few of the most popular questions regarding Patagonia as a travel destination.
My Patagonia itinerary
The Route for traveling to all the spots described within this post leads from Bariloche in Argentina (north of Patagonia) along the Panamericana (Ruta 40) to the south and ends up in Punta Arenas, Chile. Both cities are very good connected to the rest of the country via air-transport. If you wish you can also do the tour the other way around.
Where is Patagonia located?
The Region "Patagonia" is situated in the south of the continent and describes the area between Rio Colorado (Argentina) / Rio Bio Bio (Chile) and the Strait of Magellan in the very south – this means also that Patagonia has a chilean (west) and argentine side (east).
When is the best time to travel to Patagonia?
The climate down there is pretty rough, especially in the very south – if you plan to do hiking/climbing and camping the best time for a trip is between the end of November and the beginning of March.
---
Best Places to visit in Patagonia – Navigation
(use the anchor links to jump to the section, use "Top" to get back to this menu)
---
1. Bariloche, Argentina

As mentioned above the region Patagonia starts a bit further north of Bariloche. The fact that Bariloche is well connected (airport, direct bus to and from Buenos Aires) makes it to the perfect starting point of a roundtrip through Patagonia. But more than that: the combination of mountains, lakes and green forests result in a beautiful scenery.

The largest ski resort of South America transforms into a paradise for hikers and climbers (mountains around "Cerro Catedral") in summer. The lake region around Bariloche calls for a roadtrip to explore all 7 lakes in 1-2 days.
Day Tours in Bariloche
A good way to see the many sights around Bariloche is to book one of the many high-rated day tours on offer.
Best Hotels in Bariloche
Following are my recommendations for Hostels and Hotels in Bariloche – I stayed in the Hostal Achalay as well as at the Hostel Inn:

---
2. Futaleufú, Chile
Further down south and a bit harder to access is the small chilean village Futaleufú which is located at the border to Argentina. The easiest way to get there is to use a gravel road from Esquel up there. This is why it is totally of the beaten path!

The reason which makes it worth it: the Futaleufu river which is often referred to as one of the best white water rafting spots in the world. The landscape along the river is unique and due to its location still pretty much untouched.

For rafting- and kayak expeditions I recommend ExChile – I have been on a 2 day rafting tour with Chris and his guides and it has been great: the camp as well as the guides. We had a lot of fun!
Best Hotels in Futaleufu
Following my week in Futaleufú I have these recommendations for you if you plan on visiting this beautiful area:

---
3. Puerto Rio Tranquilo, Chile
If you want to get there quickly you should travel through Argentina and cross over to Chile Chico as this place is also very remote. The reason to do so: the marble caves in the General Carrera lake.

I recommend to checkout the tour companies right in the center of town where you can book excursions in this region, including tours to the nearby Northern Patagonian Icefield!
Best Hotels in Puerto Rio Tranquilo
Along the Carretera Austral family owned, small B&Bs are great options. Make sure to book in advance as there is a high demand during the summer months – here are my recommendations:

---
4. El Chaltén, Argentina
The trekking capital of Argentina is also the youngest village of Patagonia. Also for non-hikers the well marked trails are comparably easy to hike. Checkout my related hiking guide for the best tours!

The Fitz Roy and Cerro Torre are the most popular mountains in this area, also and especially for climbers. Another Highlight is the Viedma glacier.
Guided Tours in El Chalten
Best Hotels in El Chalten
El Chaltén is busy during the trekking season, therefore I highly recommend booking your accommodation well in advance to avoid a long drive from El Calafate or to be left with camping as the only option to stay in town. Because of the beautiful hiking options I also encourage you to stay at least for a few days in this picturesque setting!

---
5. Perito Moreno Glacier, Argentina
El Calafate is located just a few hours from El Chaltén by bus and the base for excursions to the famous Perito Moreno glacier. Nowhere else in the world are you able to come up as close to a glacier as here.
The view from the several platforms is extraordinary as you can see ice collapsing in front of you without being in danger (the platforms are located on a peninsula facing the glacier). Beside that you can also opt-in to do a boat tour or even an ice trek on the glacier!
If you don't have as much time you can also consider doing a shorter patagonia round trip by using El Calafate as starting/end-point of your trip, there are regular flight connections to Buenos Aires. To squeeze in also Torres del Paine you could consider the previously mentioned day tour!
Guided Tours in El Calafate
Best Hotels in El Calafate
Like in El Chaltén the selection of options can be limited if you don't book your Hotel or Hostel in advance. During my multiple visits to El Calafate I stayed in Hostels as well as Apartments and Hotels – due to the competition the quality is really good in this tourist hot spot!

---
6. Torres del Paine, Chile
For me the national park Torres del Paine is the number 1 attraction in Patagonia. You should take some time and do a multi day trek to experience as much of it as possible: glaciers, forests, impressive mountain ranges, lagoons and rivers.
Use my related Torres del Paine Trekking Guide to prepare, with several itineraries to use. If you're not much of a multi-day hiking & camping person you can also stay in some pretty nice hotels in the park and go on a few spectacular day trips in Torres del Paine. I also put together a comprehensive Patagonia Packing List you can use.
The starting and end point for any trip to the Torres del Paine National Park is Puerto Natales which has its own small airport. A bit further down south is the regions capital of Punta Arenas with a bigger airport that offers regular flights to Santiago de Chile.
Guided Day Tours in Torres del Paine
You don't need to hike to enjoy the best panoramas and vistas of the park. In fact some of the best vantage points are located in the other part of the park. A day tour is the best way to experience these spots:
Guided Multi-day Treks in Torres del Paine
Another option is to book a complete tour. This way you can leave the organization, gear rental, transportation, food and booking of campsites to local experts. Even though you pay more you'll get the full package this way including porters and a knowledgable guide.
Best Hotels inside Torres del Paine
Staying inside the park is certainly not cheap but a truly unique experience. Additionally the Lodges and Hotels you can find inside the limits of the National Park are incredible. Consider the following options for a once in a lifetime experience!

| | Budget | Rating | Reasons to stay |
| --- | --- | --- | --- |
| Ecocamp Patagonia | $$$ | 9.1 | location, glamping at its best |
| Hotel Lago Grey | $$$ | 8.6 | close to glaciar grey, incredible viewpoints |
| Hotel Las Torres | $$$$ | 7.9 | tour options, most central location inside the park |
| Explora Patagonia | $$$$$ | 9.8 | Hands down one of the best and most exclusive places to stay in all of Patagonia! |
---
7. Carretera Austral, Chile
If you have more time to spend this one should be high up on your list of places to visit in Patagonia! In my Chile guide book (see below) I dedicated a whole chapter to this 1200km long road which gives you access to the most remote areas in Patagonia.
Because the Carretera Austral is more or less a region on its own it'd go beyond this post to feature all destinations within this list. Therefore I put together another article where you can find all the places to visit in Patagonia that are located along the Carretera Austral:
---
Travel Insurance
Travel insurance is a must when visiting Patagonia due to the region's unpredictable weather, rugged terrain, and remote locations. Having travel medical insurance coverage can provide financial protection and peace of mind in case of emergencies or unforeseen circumstances.
I recommend the packages offered by SafetyWing as they offer coverage for medical emergencies, trip interruptions, and even emergency medical transportation. Plus, their affordable and flexible plans make it easy to find the coverage that fits your needs and budget:

---
Full Patagonia Tours
As you can tell there is a wide range of things to do & places to visit in Patagonia. The remote location of this area makes it hard to come up with a suitable itinerary for those who only have a limited amount of time. In this case a guided tour is often a great option to visit a number of attractions as you leave the organization, the transportation between spots, gear rental, food and booking of campsites to local experts. Though you pay more you'll get the full package this way including porters and a knowledgable guide.

After working with them in Africa (Kilimanjaro), Costa Rica, Peru & Cuba I highly recommend the tours offered by G Adventures as their philosophy and focus on sustainable travel are in line with my personal values. With many years of expertise you can expect a well organized, fun trips in small groups with like-minded travelers:
---
My Travel Guide Books
After many trips to Chile & Argentina I published to comprehensive Travel Guides which will help you plan your adventure in this region. Both book are available as eBooks, the Chile travel guide is also available as paperback!
My Chile Guide incl. TdP itineraries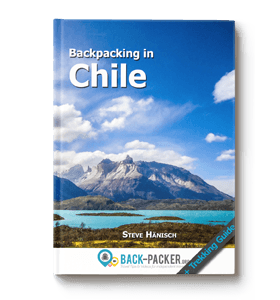 Backpacking in Chile: my Chile Travel Guide

This is a clear and concise guide book based on my experience from 6 months traveling through Chile.

It includes travel guides for each region of Chile as well as a complete trekking guide for Torres del Paine, plus route itineraries. Checklists are included to help make sure you don't forget anything.

This book is designed to save you a lot of time & make your trip much easier. Download it now or buy the paperback and take it with you!

more information >>



If you want to continue traveling through Patagonia you should also checkout the Argentinean part: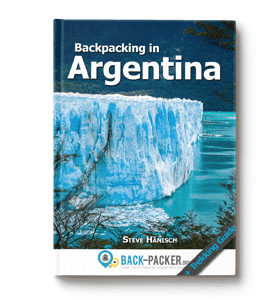 Backpacking in Argentina: my Argentina Travel Guide

This is a clear and concise 100 page eBook based on my experience from 3 months traveling through Argentina.

The book includes travel guides for the several regions of Argentina as well as a tiny trekking guide for El Chaltén and Ushuaia. Checklists are included to help make sure you don't forget anything.

This eBook is designed to save you a lot of time & make your trip much easier. Download it now and take it with you!

more information >>
---
My Patagonia Documentary
I visited all places mentioned in this guide on several trips. Most of them are featured in my big Patagonia Documentary which you can find on YouTube.

---
What are your best places to visit in Patagonia?
Did I miss any important spot? Tell us your favorite spot in the comments below and feel free to share this article with your friends!
---
Helpful? Pin me!
---
Disclaimer: This Patagonia Travel Guide contains Affiliate Links for services and products I'm using on my travels – therefore I can highly recommend them. By using these links you won't pay any additional fees! All recommendations, opinions, and ironic remarks are, as always, my own.