Recently I often get asked about the best places to visit in Chile. Honestly this is one of the hardest questions to answer about a country that has so much to offer. Nevertheless I used the chance and wrote down my personal top 10, including tips for tours and accommodation. (updated: June 2023)
I have been backpacking through Chile 4 times already where I managed to visit 14 of 15 regions. The best time to travel Chile is from October till April – in Patagonia December untill beginning of March. If you are planning your trip I highly recommend learning spanish beforehand.

My personal list of best places to visit in Chile will help you make the most of your time there. Use the following navigation to jump to the things to do in Chile you are most interested in:
---
Best Places to visit in Chile – Quick Navigation
---
1) San Pedro de Atacama – Atacama Desert

Let's start our trip in the north. The Atacama Desert is the driest desert in the world but has a lot to offer: the moon valley, flamingos at the colorful lagoons, sand boarding at the dunes, volcanos and an amazing view at the night sky.

San Pedro de Atacama was my starting point for backpacking the north of chile – checkout all possibilities and things to do in the atacama desert here.

Accommodation
In San Pedro the prices for rooms are way above the country's average as it is a tourism hotspot. On the other hand a lot has changed for the better. Many Hotels now have a much better standard and even have breakfast on offer. I've been twice in San Pedro de Atacama and can therefore recommend a wider range of places to stay – depending on your budget:

---
2) Valparaiso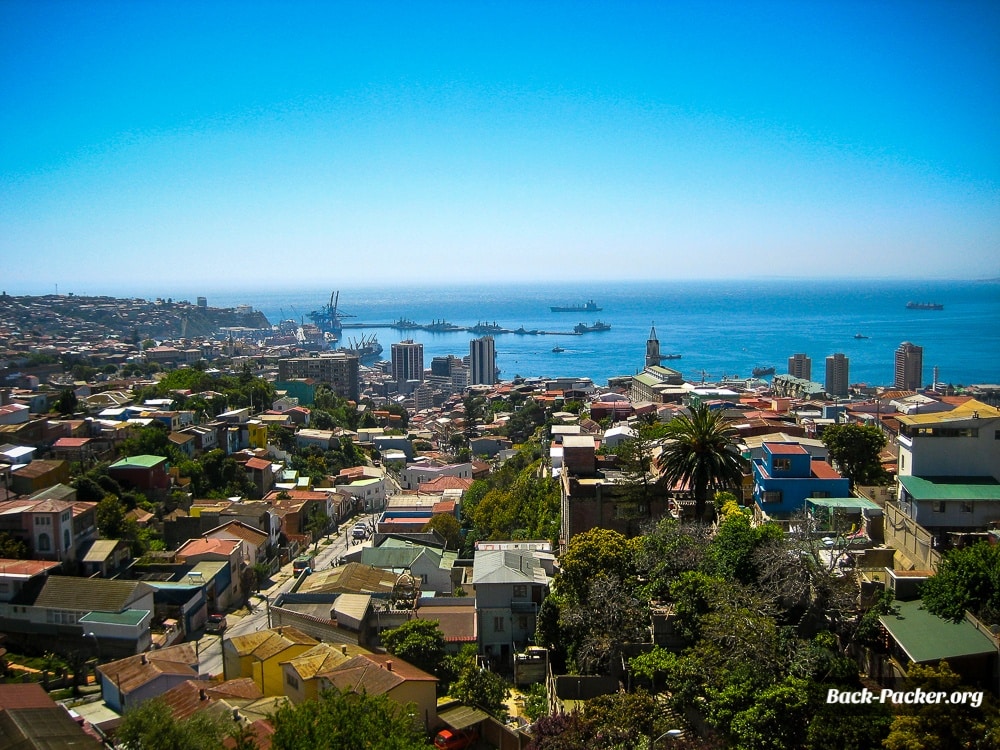 I loved to wander the streets of this colorful port city which is also part of the UNESCO World Heritage. Believe it or not: I spent a whole week in Valparaiso photographing the fantastic street art and enjoying the views from the many hills 🙂

Use your stay to explore the central hills (Cerro Concepcion, Cerro Alegre) and make use of the funiculars, too. Apart from this the National Maritime Museum is definitely worth a visit!

Accommodation
Valparaiso is characterized by its many hills where you can also find most of the accommodation featured here. The Casa Volante has been my base for my time exploring the best places to visit in Chile in this part of the country. With help of my local friends I also managed to put together a list of alternative lodging options:

| | Budget | Rating | Reasons to stay |
| --- | --- | --- | --- |
| Casa Volante | € | 8.6 | great location, good breakfast selection, budget friendly |
| La Casa Piola | € | 9.3 | lovely atmospehere, rooftop terrace, good value for money |
| Pontoval B&B | €€ | 9.8 | pool, good breakfast, modern interior |
| Hotel Winebox | €€€ | 9.0 | unusual accommodation (remodelled shipping containers), great view and good breakfast |
| Zero Hotel | €€€ | 9.2 | Hotel with lovely garden and terrace, good breakfast |
---
3) Pucón – Villarrica Volcano

If you travel further south your next stop should be a city located next to a lake and a volcano: Pucón. After I made my way up to the Villarrica Volcano I was overwhelmed by the view and pretty sure that this spot is one of the best places to visit in Chile for outdoor lovers and adventure seekers!

For more information checkout another great guide I put together – Backpacking Chile: Top things to do in Pucon – where you also see more photographs taken there.

Accommodation
Pucon offers a wide range of accommodations. I've stayed in the old version of the "Lucky Hostel" and really liked the cozy atmosphere (which is now even better after renovations and change of ownership!). Following are my recommendation for your time in Pucon:

| | Budget | Rating | Reasons to stay |
| --- | --- | --- | --- |
| Chili Kiwi Lakefront Backpackers | $ | 9.0 | good value for money, great location at the lake, good atmosphere |
| Lucky's Hostel | $$ | 9.6 | central location, sympathetic hosts, breakfast included |
| B&B HMüller | $$ | 9.4 | cozy, helpful staff |
| Newen B&B (my choice) | $$ | 8.8 | great central location, modern and cozy interior, good breakfast, very good value for money |
| Hotel Küyen-Ko | $$ | 9.0 | family run hotel, rustic |
| Maki Hotel | $$$ | 9.2 | modern boutique hotel, great breakfast |
---
4) Puerto Varas – Osorno Volcano

Ok…now that volcanoes sparked our interest: another cool one can be found close to Puerto Varas and looks pretty much like the little brother of Mt. Fuji. Getting up there is even easier as there is a street which leads almost to the top. The view is different but also impressive.

Puerto Varas itself is a small, charming village with German roots which is visible in the architecture as well as in the cakes you can enjoy here.

Accommodation:
Puerto Varas offers a lovely selection of cozy places in a great location. I've stayed in a family run B&B und summed up my recommendations in the following list. You can choose between budget friendly hostels, cozy B&Bs and luxurious hotels:

---
5) Fjords of Chaiten / Hornopiren

This and the following 3 best places to visit in Chile are for those who are up for real adventures due to the fact that those spots are located in the most remote area of the country – the Carretera Austral. Right at the beginning you have to cross the many Fjords between Puerto Montt and Chaiten with different ferries to make your way down and you will feel like being in Scandinavia.

Find more information as well as great imagery of this and the following spots in my related Patagonia Documentary!


Accommodation:
Along the Carretera Austral budget friendly, family run B&Bs are the dominant option when it comes to accommodation. This way you are in direct contact with the locals which makes your trip even more special. Here are my tips for your time in Chaiten:

| | Budget | Rating | Reasons to stay |
| --- | --- | --- | --- |
| Tenchita Homestay | $$ | 8.8 | simple private rooms, breakfast included, lovely hosts |
| Paraiso Patagonico | $$ | 8.6 | great hosts, nice breakfast, very clean |
| Chucao Bosque y Cabanas | $$ | 8.9 | Chalet's in the forrest in the outskirts of Chaiten, helpful staff |
| Tranqueras del Monte | $$$ | 8.1 | comfortable accommodation with great breakfast and a lot of space, perfect for families and small groups |
---
6) Futaleufú

Rafting pro's mention this river as one of the world's best spots for white water rafting and this is what you should do there to experience the pure beauty of the Futaleufú river. I went on a multi day rafting adventure with Chris from ExChile, a former US Olympic team kayaker.

Accommodation:
To start relaxed into your rafting adventure I have a few options for you:

---
7) Puerto Rio Tranquilo – Marble Caves

You have possibly seen those caves on pictures all over the internet in collections like "places to see before you die" or "natural wonders of the world". The truth is: not many people have seen those caves in person as they are located at the southern part of the Carretera Austral inside the second largest lake of South America.

It took me a few days to get there by hitchhiking but it was worth all the efforts. On top of all my last lift owned a tour company and invited me to join 2 of his boat tours – lucky me! 🙂

Accommodation:
As for many villages along the Carretera Austral you can also find a number of B&Bs in Puerto Rio Tranquilo. During the summer months the demand is very high therefore I recommend booking your room way in advance!

---
8) Villa O'Higgins & O'Higgins

The last 3 spots are hard to access – this one is the cherry on top! It takes a lot of time to get there and to get out from there which also means that you won't find many people visiting it.

I made my way from El Chaltén to Candelario Mansilla and continued to Villa O'Higgins – a great trek itself with beautiful views to the lake!

Accommodation:
To explore the best places to visit in Chile located in this area I highly recommend the El Mosco hostel as your base. If you like to have a bit more comfort you should choose the lodge of Rumbo Sur which even has a hot tub.

| | Budget | Rating | Reasons to stay |
| --- | --- | --- | --- |
| El Mosco Hostel | € | - | great atmosphere, best value for money, solid breakfast (private rooms) |
| Puesto Canogas Hostel | €€ | 9.6 | great breakfast, lovely hosts, good location |
| Hotel Rumbo Sur | €€€€ | 9.1 | very comfortable, exclusive lodge with good breakfast and great service |
---
9) Puerto Natales – Torres del Paine

This one shouldn't be missed when in South America as the national park Torres del Paine offers so much diversity in a comparably tiny area: glaciers, lagoons, impressive mountain ranges, grasslands and green forests.

I spent around one month in the area and put together one of the most detailed trekking guides which helps you to plan your very own adventure!

Accommodation:
If you like to stay inside the park you need to have a certain budget. Despite the fact that hotels here are quite pricey they offer a unique experience and some of the world's best panoramas. If you plan on treating yourself to something special you should consider staying in one of the following hotels:

| | Budget | Rating | Reasons to stay |
| --- | --- | --- | --- |
| Ecocamp Patagonia | $$$ | 9.1 | location, glamping at its best |
| Hotel Lago Grey | $$$ | 8.6 | close to glaciar grey, incredible viewpoints |
| Hotel Las Torres | $$$$ | 7.9 | tour options, most central location inside the park |
| Explora Patagonia | $$$$$ | 9.8 | Hands down one of the best and most exclusive places to stay in all of Patagonia! |
---
10) Punta Arenas – Isla Magdalena

You like penguins? This is a paradise for you! Close to Punta Arenas, the biggest city in the south of Chile you are able to go on an excursion to Isla Magdalena. This island is home to more than 50.000 penguins!

I took one of the daily ferries to visit the guys for around 30 minutes. My recommendation is to hop off the ferry and make your way up immediately. Most of the tourists just take pictures right away so you have more penguins around you when you are the first to walk the path 😉

After Punta Arenas I recommended to make your way down to Ushuaia and with that start exploring the 10 Best Places to Visit in Argentina!

Accommodation:
In Punta Arenas you can find a number of small B&Bs which offer great value for the money you spend. I've visited this town multiple time and can therefore recommend a few places to stay.

| | Budget | Rating | Reasons to stay |
| --- | --- | --- | --- |
| Hostal Balmaceda | € | 8.0 | simple but budget-friendly & clean private rooms |
| Hostal Buenavista Patagonia | € | 9.5 | best value for money in town, nice rooms with good breakfast included |
| Apart Hotel Endurance | €€ | 9.0 | modern furnished apartments with Kitchenette, breakfast included |
| Apart Hotel Quillango | €€ | 9.1 | comfortable, spacious apartment in a good location, friendly service, breakfast included |
| Hotel Ilaia | €€€ | 9.2 | lovely small hotel with cozy atmosphere and great breakfast |
---
11) Guided Tours in Chile
If you like to see as much as possible but your time is limited or if it is your first trip to that part of the world and you feel a bit uncomfortable doing it completely on your own it makes sense to book a multi-day tour. This way you do not only leave the organization of the trip including all accommodation and transport to local experts but you get to learn so much about the country from your guides and you'll travel in a group of like-minded people. A multi-day tour can also be easily combined with an independent trip (e.g. you could start with a tour and afterwards go backpacking in Chile on your own).

After working with them in Peru, Cuba, Bhutan, Costa Rica and Tanzania I highly recommend the small group tours offered by G Adventures as their philosophy (working with small local businesses) and focus on sustainable, responsible travel are in line with my personal values. With many years of expertise you can expect well organized, fun trips in small groups:
If you want to travel independently you can go also for day tours from/to the mentioned destinations:

---
12) Video of my experience
I visited all places to visit in Chile mentioned in this guide during my time in South America. As always I also filmed a video documentary about my time. The following film is about Patagonia, on my channel you can find more videos about Chile.


---
Best Places to Visit in Chile: your favorites?
Did I miss any important sight? Tell me your favorite spot in the comments below and feel free to share this article with your friends!
---
Disclaimer: This Chile Guide contains Affiliate Links for services and products I'm using on my travels – therefore I can highly recommend them. By using these links you won't pay any additional fees! All recommendations, opinions, and ironic remarks are, as always, my own.