Lisbon is one of the oldest and most beautiful cities in Europe. In this guide I'll show you the best things to do in Lisbon, Portugal as well as restaurants, tours and hotels. Additionally I give you some valuable Lisbon tips for some lesser known attractions.
Nowadays the city attracts more than 6 million tourists per year drawn to its historical and cultural heritage, good transportation connections and good touristic infrastructure. After living in Portugals capital for altogether more than 7 months I want to use this travel guide to introduce you to its central neighborhoods, major attractions and I'm going to show you where I ate and where I stayed.

Most of Lisbons major attractions are located in the historic center which is divided into the following neighbourhoods:
Top 3 Hotels (more below)

Use the following navigation to jump to the things to do in Lisbon & my personal Lisbon tips you are most interested in:
Things to do in Lisbon – Quick Navigation
(use the anchor links to jump to the section, use "Top" to get back to this menu)
1. Popular Things to do in Lisbon
With its rich architecture, beautiful old town and its warm climate Lisbons popularity grew massively over the past few years and is now anything but a hidden gem. Therefore the majority of the major sights mentioned below can be very busy.
Please Note: The following attractions are considered to be the Must-See's and they are popular for a reason. To avoid the crowds I recommend coming before or after the busier timeframes and I advise you to mix popular with lesser known attractions in Lisbon. Another recommendation would be to consider buying a Lisboa Card beforehand to use the public transport and save on entrance fees for most of the mentioned sights (some are already included in the card).
a) Alfama – a stroll through the old town
Alfama is the oldest part of the city and is home to numerous Fado bars, as well as most of Lisbon's historical sights. It is best to start your stay with a stroll through the many alleys, visit the landmarks described below and enjoy the view from the vantage points.
Please note: since Alfama and the neighboring districts are located on hills in the eastern part of the city center, you should come prepared (check out my breakfast recommendations under 5)!). I also advise against using the tram lines here, as they are often overcrowded and known to be a playground for pickpockets (they are, however, excellent photo opportunities).
b) Castelo de São Jorge
The fortress of São Jorge located in the old town can be seen from afar and has an eventful history of conquests and sieges. Extensive restorations in the 1940s made the spectacular fortress complex with its many towers accessible.
In addition to the towers and castle walls, the viewing platform is another reason for a visit as it offers a unique view over the entire city. Another highlight is the Nucleo Museologico, where a large drawing of Lisbon which shows the city before the great earthquake of 1755 is being display.
Entrance fees:
10€ for adults, 5€ for children and students, free entrance for children below the age of 12
Opening hours:
09:00 – 21:00h (March – October) & 09:00 – 18:00h (November – February)
c) Catedral Sé Patriarcal – Lisbons cathedral
The Romanesque church, simply called "Sé" by the locals, is the oldest church in the city and architecturally quite impressive. A short stopover is definitely worthwhile on your stroll through Alfama.
Entrance fees:
entrance is free of charge for the main building, 4€ for the treasury & monastery tombs
Opening hours:
daily 09:00 – 19:00h
d) Miradouro de Santa Luzia & Portas Do Sol
These two viewpoints are just around the corner from the cathedral and offer an unobstructed view of the Tagus river.
While the Miradouro Santa Luzia is characterized by its garden and the azulejos (tile paintings showing Lisbon), the Miradouro Portas do Sol offers an even wider panorama from its large viewing terrace. Both places are real tourist magnets, especially during sunset!
e) Miradouro da Senhora do Monte
Speaking of popular viewpoints, this one should not be missing. The Miradouro da Senhora do Monte is one of my personal favorites because its location offers a fantastic photo opportunity: the old town, including the fortress in combination with the Tejo, the striking bridge (Ponte 25 de Abril) and the Christ statue in one shot!
my insider tip: The best time to visit is obviously at sunset, but that's also when it's busiest. For early risers and night owls, however, the sunrise is also worth considering as there is much less going on here.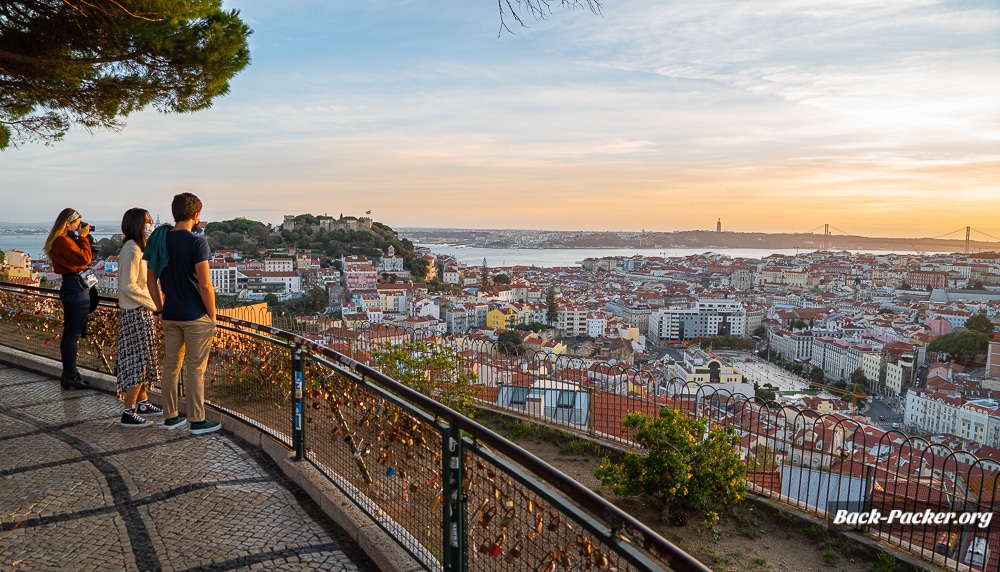 f) Elevador de Santa Justa
Opened in 1901 the Elevador de Santa Justa is another hotspot for seeing the city from above. Located in the middle of Baixa it towers directly over the rooftops of the elegant district. The neo-gothic elevator is the only remaining vertical elevator that connects the Baixa district with the higher Chiado district.
my insider tip:
Especially in summer lines can be quite long. To skip the lines and at the same time increase the workout I recommend to choose the upper entrance – instead of 5€ you only pay 1.5€ to access to the viewing platform.
Entrance fees:
5,15€ for the lift, 1,5€ for the viewing platform
Opening hours:
07:00 – 23:00h (May-October), 07:00 – 22:00h (November-April)
g) Praça do Comércio
This impressive square was once the site of the Royal City Palace until the devastating earthquake of 1755. Following the event the Praça do Comércio was then completely reconstructed and has since been regarded as the city's most important square and event space.
The buildings around the large square form a rectangular "U" that open towards the Tagus river. Now there are galleries on the ground floors and the arms of the "U" end in two large towers, reminiscent of the monumental tower of the destroyed Ribeira Palace. Additionally a triumphal arch commonly known as Arco da Rua Augusta was build forming the entrance to the central Rua Augusta promenade (there is also a viewing platform on the triumphal arch).
h) Belém & Monument of the Discoveries
For the next important sights in Lisbon you need to head to the Belém district, where you should first visit the palace before strolling through the park to the promenade.
The monument "Padrão dos Descobrimentos" is intended to commemorate the Portuguese Age of Discoveries and shows 33 important figures of the late Middle Ages in Portugal (who didn't live at the same time) – including Henry the Navigator and Vasco da Gama. On the second floor you can us a staircase to get to the viewing platform offering a great panorama over Belém.
Entrance fees:
6€ for adults, 3€ for visitor between 13-18 years, kids below 12 are free of charge
Opening hours:
Tuesday-Friday from 10:00 – 19:00 Uhr (March-September),
Tuesday-Sunday from 10:00 – 18:00 Uhr (October-February)
i) Torre de Belém
When in Belém you shouldn't miss visiting the Torre de Belém. Completed in 1521 this tower has become a symbol of the city and is now a UNESCO World Heritage Site. Once a lighthouse the Torre de Belém was located directly at the mouth of the Tejo and greeted the arriving explorers and merchant ships.
Due to the large number of visitors I advise against visiting the inside, this way you also save the 6€ entrance fee.
Bonus tip:
For those with a sweet tooth a trip to Pasteis de Belém on the way back should be a must!
---
2. Insider Tips in Lisbon
If you want to avoid the hustle and bustle you should look into the following alternative sights. In this section I will introduce you to less frequented attractions and insider tips in Lisbon which aren't on the list for the majority of Lisbon visitors.
a) Cristo Rei in Almada
For a slightly different perspective of Lisbon I recommend a trip to the other side of the Tejo. The Christ statue "Cristo Rei" in Almada is the perfect place for this. Inspired by the Christ the Redeemer statue in Rio de Janeiro this monument is situated 113m above the Tagus River making it visible from all over Lisbon.
If you want you can visit the viewing platform at the top of the monument and enjoy a spectacular panorama. However the viewpoint directly in front of the statue also offers a great view and is completely free of charge. Similar to Porto the panorama from here is particularly impressive due to its proximity to the iconic bridge!
How to get there:
Best is to take the ferry from Cais do Sodré to Cacilhas (1,25€) and order an Uber/Bolt (3,50€) to get to the statue
Entrance fees:
The access to the site is free of charge. To get to the top of the monument you need to pay a fee of 8€
Opening hours:
daily from 10:30 to 18:00h
b) Parque Eduardo VII
This picturesque park is located northeast of the old town and is also the largest park in Lisbon. Due to its elevated position, the upper end offers a beautiful view over the city to the Tejo.
A stroll through Parque Eduardo VII is a relaxing contrast to sightseeing in the busy old town. On top of that the geometrically arranged hedges in combination with the Praça Marquês de Pombal and the Avenida da Liberdade in the background offer a great photo opportunity.
my lisbon tip:
Take the metro and get off at "São Sebastião" station. Walk via the "Miradouro Parque Eduardo VII" viewpoint (at the top of the park) down to the roundabout at Praça Marquês de Pombal (there is also a metro station there). Even at a slow pace this walk takes no more than 30 minutes.
c) Parque das Nações
How about a trip to the east of the city? Here, the Parque das Nações offers another great opportunity for a long walk…but this time along the river.
The neighborhood was created in 1998 as part of the Lisbon Expo, hence the name. After the world exhibition, the area was transformed into a modern residential and shopping district with a cable car, marina and architecture worth seeing.
d) LX Factory
In close proximity to the center you can pay a visit to a comparatively new attraction: the LX Factory. This former industrial complex is right next to Lisbon's famous bridge and has been revitalized in recent years.
With its numerous shops, restaurants, small art galleries, cafes and even a small library, the LX Factory feels like a mini city in the metropolis. The rooftop restaurant of the factory building is great for a sundowner!
e) Costa da Caparica
Do you feel like a day at the beach instead of sightseeing? I got you covered! Costa da Caparica is known for its wide sandy beach and is literally on Lisbon's doorstep (20km away).
Even though the town itself isn't as appealing from an aesthetic point of view, the promenade, the well-kept beaches and the numerous restaurants as well as beach bars are definitely worth a day trip.
my lisbon tip:
Fonte da Telha is located a short drive outside of Costa da Caparica but way more scenic and also less crowded. A great recommendation if you have a rental car available.
How to get there:
The cheapest option is the bus – from Cacilhas there is a direct connection to the center of Costa da Caparica with line 135 for around €3. If you like it more comfortable and independent, you can take an Uber – the ride from the old town costs around 18€.
Alternatively you can rent a car (cheapest to rent at the airport in Lisbon).
f) Miradouro de Santa Catarina
Due to its location, my last recommendation is admittedly not really one of the true secret Lisbon tips. But: this vantage point was only recently renovated and is still not as popular as the viewpoints mentioned in (1).
Here the viewing terraces are not that far from the banks of the Tejo and thus enable a panorama that is much closer to the city's landmarks. The Miradouro Santa Catarina is particularly popular with young locals who like to hang out here during sunset.
my lisbon tip:
In the morning hours the viewpoint is almost deserted, so you can enjoy the calm before the storm and have the view over the Tejo to the bridge almost to yourself.
---
3. Tours in & around Lisbon
Although you can explore most of the sights in Lisbon on your own a classic guided tour (in addition to a hop-on hop-off bus tour) is always a great option. This way you learn a lot more about the history/culture of the city and get to see spots you wouldn't have visited.
If you are traveling without a rental car, the day tours below are budget friendly options to explore attractions outside of Lisbon. In general I recommend booking those tours a few days in advance as most of them are quite popular and spots sell fast.
a) Street art Tour in Bairro Alto & Alfama
On this 3-hour small group tour you will see graffiti and urban art from large installations to small sculptures by well known artists from the street art scene.
This tour, mostly led by Joao, was one of the best tours I've been on during my time in Lisbon as you'll learn a lot about the history of the city as well as the political and social problems through the works of art. Therefore I can highly recommended this tour that takes you away from the hotspots and shows a side of the city that you wouldn't have seen otherwise.
Here you can book the tour:
b) Pastel de Nata Workshop
In addition to the city center I fell in love with the Pasteis de Nata during my time in Portugal's capital. After countless visits to local pastry shops I wanted to learn more about the process and signed up for a workshop with the owner of an award-winning bakery in the heart of Lisbon (now he moved to a village outside of Lisbon).
In this 2 hour workshop I learned how to make the irresistible tarts on my own – including the technique to give the pasteis their unique shape. The end result was truly delicious and João also sent out the family recipe to all participants afterwards. Whenever I miss Portugal I can now bake my own Pasteis de Nata at home 🙂
Here you can book the workshop:
c) Sunset Cruise on the Tagus river
For sunset I recommend booking a boat trip on the Tagus River as an alternative to visiting the mostly crowded viewpoints in the old town. This way you pass numerous well-known sights on the water side avoiding the crowds and getting a few unique photo opportunities.
The selection of boat tours is huge – I opted for a traditional sailing ship. You will find various options below, from catamarans to classic sailboats.
Here you can book the boat tours:
d) Pub Crawl through Lisbon
When in Lisbon you should not miss out on the nightlife. In Bairro Alto you can find numerous bars and pubs. A good old pub crawl is a good way to explore the trendy district with like-minded people:
e) Day Trip to Sintra
When it comes to day trips Sintra is one of the most popular destinations for a reason. The charming town is just half an hour outside of Lisbon and is home to numerous historic palaces and fortifications. Especially the unique Palacio da Pena is a real magnet for visitors.
My insider tip for Sintra:
My personal recommendation is to come as early as possible and pay a visit to the beautiful park of Quinta da Regaleira as soon as it opens. Instead of visiting the inside of the usually busy Palacio da Pena, I recommend the short hike to Cruz Alta in the park surrounding the palace. Additionally the Moorish castle and Sintra itself are also worth a visit!
Here you can book tours to Sintra:
f) Day Trip to Cabo da Roca
Cabo da Roca is also in the Sintra region and is one of the most popular destinations in the area. The cape with its lighthouse is not only impressive it is also the westernmost point of mainland Portugal, of continental Europe and of the Eurasian land mass.
A trip to Cabo da Roca can be easily combined with other things to do in Cascais and Sintra by booking a day tour from Lisbon. The following packages offer some great combinations of sights:
g) Surfing in Cascais
Cascais was once a sleepy fishing village until the Portuguese royal family regularly spent their summer in Cascais from 1870, which also attracted the nobility and upper class over time. In addition to the magnificent architecture, it is the beaches that make a trip to Cascais worthwhile.
Besides visitors who want to get to know the other, somewhat quieter side of Lisbon, Cascais has become increasingly popular with surfers in recent years. I've also been coming to Cascais to surf regularly for the last 2 years and I'm usually a guest with my friends in the SurfCascais surf villa – in addition to a surf camp, these guys also offer daily surf courses for fair prices including wetsuits and boards:
How to get there:
There is a direct train connection every 30 minutes between the center of Lisbon (Cais do Sodre) and Cascais, with Carcavelos beach also being a stopover (this is where the surf lessons often take place). A single trip costs only €4.50 and takes half an hour.
---
4. Restaurants in Lisbon
When you explore all the sights and things to do in Lisbon you shouldn't miss trying the local cuisine. During my time in Lisbon I mainly focused on restaurants that offer regional dishes – below I list all the restaurants that I consider particularly recommendable.
a) Time Out Market
Even though the Time Out Market looks like other trendy food halls, it's a successful conversion of an old, rarely-visited traditional food market. Today, some of the country's best chefs offer a variety of regional specialties – such as bacalhau or the infamous pasteis de nata.
Although the Time Out Market is anything but an insider tip in Lisbon, you will find a wide range of Portuguese dishes in one spot. Due to its location right next to the "Cais do Sodré" station and the fact that no reservation is required, the Time Out Market is ideal as a "pit stop" for sightseeing in the city center.
Opening hours:
every day 10:00 – 00:00 h
Address
Av. 24 de Julho 49, 1200-479 Lisbon
b) A Merendinha do Arco Bandeira (portuguese)
A true gem in the middle of the tourist center, yet somewhat hidden on a street corner. Here you can order solid traditional Portuguese food at comparatively low prices.
Like the dishes, the furnishings are simple and rustic. Delicious, authentic and all around great restaurant!
Opening hours
Mo.-Fr. 08:00 – 20:00 h
Sa. 08:00 – 15:00 h
Address
R. dos Sapateiros 230, 1100-581 Lisboa
c) Cantinho do Aziz (Mozambican)
Anyone who knows the history of Portugal knows that African Mozambique was a Portuguese colony until 1974. This connection between Portugal and Mozambique also had a culinary influence. Cantinho do Aziz is one of the best addresses in Lisbon to try mozambican food.
The restaurant is located in a small alley in the middle of Alfama and offers a variety of typical, sometimes quite spicy dishes from the Southeast African country. On top of that the service is friendly and helpful (even if it is busy), the prices are fair. Be sure to try the samosas!
Opening hours
every day 11:00 – 23:00 h
Address
Rua de Sao Lourenco 5, 1100-530 Lisboa
d) Cabaças (Steak, Portuguese)
Those who like steak will love Cabaças. The signature dish is the steak which you prepare yourself at the table on a hot stone – together with the homemade sauces, a real treat!
This small rustic restaurant is well known beyond the borders of Lisbon by the locals making it difficult to get a table. Make sure to come early and avoid the typical Portuguese dining hours (9pm – 11pm)
Opening hours
Tu.-Fr. 12:00 – 15:00h and 19:00 – 00:00h
Sa.-Su. 19:00 – 00:00h
Address
R. das Gáveas 8, 1200-208 Lisboa
e) Petisqueira Conqvistador (Fish, Portuguese)
The Petisqueira Conqvistador next to the São Jorge Fortress is the perfect spot for local "petiscos", especially after the fortress has closed and most tourists have left.
As the name suggests the fish dishes are especially recommended. In terms of price, however, the restaurant is more in the upper segment.
Opening hours
every day 12:30 – 22:00h
Address
Tv. de São Bartolomeu 4, 1100-059 Lisboa
f) Noobai (Rooftop Bar/Restaurant)
Noobai is definitely not a typical Portuguese restaurant but I wanted to add this place to the list because of its view and location. Although this rooftop bar offers various dishes you should mainly come here for an afternoon drink.
The bar has various terraces and is located directly on the above-mentioned Miradouro de Santa Catarina (2f). As a snack, I can recommend the loaf of bread filled with melted cheese (yes, you read that right).
Opening hours
every day 10:00 – 00:00h
Address
Miradouro de Santa Catarina (Adamastor), 1200-401 Lisboa
g) A Muralha Tasca Típica (Portuguese)
This restaurant is one of the favorites of my Portuguese friend João, who was my host on some of my trips to Lisbon. Especially those who absolutely want to try the Portuguese national dish, the bacalhau, should come here.
In addition to the food, the range of wine and craft beer is also impressive. Highly recommended!
Opening hours
Mo.-Sa. 12:00 – 01:00h
Address
R. Jardim do Tabaco 112, 1100-139 Lisboa
---
5. Cafés & Brunch Spots in Lisbon
I don't know if you feel the same way, but for me a good breakfast is one of the most important ingredients for a perfect holiday. During my time in Lisbon I often skipped the breakfast in my accommodation and went searching for good brunch restaurants instead. In this section I have listed my best Lisbon tips for breakfast lovers.
a) Quase Café
Just around the corner from Miradouro das Portas do Sol, this charming little cafe has one of the best breakfast options in town. Since space is very limited, you should come early or choose off-peak times.
The Quase offers whole breakfast menus as well as individual portions, the service is very friendly and the price-performance ratio is also right. Absolutely recommendable!
Opening hours
Mo.-Fr. 09:15 – 17:00h
Sa.-Su. 09:15 – 13:30h
Address
Rua do Salvador 32, 1100-465 Lisboa
b) Zenith (Brunch & Cocktails)
The Zenith is also a good place to start your Lisbon adventure. This restaurant is just north of the tourist center and offers breakfast a lá Eggs Benedict/pancakes/French toast/banana bread – try to get there as early as possible to avoid the rush hour.
Opening hours
Mo.-Fr. 09:00 – 17:00h
Sa.-Su. 09:00 – 19:00h
Address
R. do Telhal 4A, 1150-346 Lisboa
c) O Ninho – café brunch
The O Ninho is located in a rather quiet corner of Alfama and has a lovely interior design. But the same applies to the breakfast dishes, which are more on the traditional side of things (scrambled eggs, orange juice, fruit salad…).
Breakfast aside, O Ninho is a relaxing place to take a coffee break from sightseeing in Alfama.
Opening hours
Mo., Tu., Fr. 09:00 – 18:00h
Sa.-Su. 09:00 – 13:00h
Address
R. São Cristóvão 17, 1100-514 Lisboa
d) Frutaria (Brunch & Vegan)
As the name suggests this place is all about healthy ingredients when it comes to brunch. Fresh fruits, salads, smoothies and numerous vegan dishes in the Frutaria offer a contrast from Pastel de Nata and Bifanha.
The Frutaria is right next to Figueira Square, in the same building as the recommended hostel below with the nice name "We love f****** tourists". If you happen to stay in the hostel you'll get vouchers for free espresso in the Frutaria.
Opening hours
every day 09:00 – 18:00h
Address
R. dos Fanqueiros 269, 1100-232 Lisboa
e) Nicolau (Brunch & Snacks)
If you're looking for an Instagram set for brunch shots that will make any hipster's heart beat faster…then you've come to the right place at Nicolau. In addition to the interior design, the pancakes, poached eggs and bowls provide the missing ingredients for the perfect "morning routine" IG Story 😉
Opening hours
Mo.-Fr. 09:00 – 19:00h
Sa.-Su. 08:30 – 19:00h
Address
Rua de São Nicolau 17, Baixa, 1100-547 Lisboa
f) Eight the Health Lounge (Bowls & Vegan Dishes)
Things are just as hip here as in the Nicolau. Nevertheless: the smoothie bowls are great and the selection of vegan dishes is also impressive. Compared to Nicolau the prices here are lower, which also has something to do with the location (in the upper part of Baixa).
Opening hours
Mo.-Th. & Su. 09:00 – 20:00h
Fr. 09:00 – 15:00h
Address
Praça da Figueira 12A, 1100-241 Lisboa
g) Manteigaria (Pastel de Nata)
One thing is for sure: my time in Portugal definitely got me addicted to Pasteis de Nata. After extensive tastings the Manteigaria emerged as the clear winner in my personal opinion. You can watch live how the tartlets are prepared in front of you (behind a pane of glass). This means that you usually get served fresh, warm Pastel de Nata when you buy them.
The success of Manteigaria has led the owners to open more stores in central Lisbon. My favorite place is the shop at Praça Luís de Camões. Regardless of the shop, however, the pasteis are freshly prepared in every Manteigaria.
Addresses
(1) Largo Luís de Camões, 1200-243 Lisboa
(2) Rua Augusta 195-197, Baixa, 1100-619 Lisboa
(3) Time Out Market
---
6. recommended Hostels & Hotels in Lissabon
As usual, in addition to the sights & Lisbon tips, this article also includes my personal recommendations for accommodation. Due to my comparatively long stay I can recommend several Hotels & Hostels.
a) Good Morning Solo Traveller Hostel (Boutique Hostel, $$)
This hostel is without a doubt one of my favorite hostels in the world. Lovely interior design, friendly hosts, good location, great program and a sensational breakfast are convincing, right? Oh, and I haven't even mentioned the "Power Hour," which stands for free beer and sangria for 1 hour each day. This way you can easily connect with other travelers and have the best basis for starting your nightlife.
In addition to the hip dorms, the Good Morning Hostel also has double and triple rooms with air conditioning. The only downside: the private rooms are a bit overpriced.
b) We Love F***** Tourists (Hostel, $$)
The We Love F*** Tourists Hostel in Baixa is just a few minutes away from the Praça do Comércio. When I stayed here for a weekend the atmosphere was great, the staff super friendly and there were numerous activities on offer (I attended a dinner and went on a night out).
Both the joint dinners and the common areas are great chances to connect with like-minded travellers. You can choose between shared rooms and private rooms.
c) Santa Bica (Boutique Hotel, $$$)
If you want a little more privacy and tranquility you should consider Santa Bica. This charming little hotel is set in a historic building right next to the famous elevador "Bica". For now this hotel is still one of the secret Lisbon Tips as it is brand new.
I've stayed here on my most recent visit for 3 nights and can only recommend this hotel. All rooms in the Santa Bica have a bathroom ensuite. In addition to the good location and the lovely breakfast, the friendly & very helpful staff are another reason to stay here.
d) C&O Guest House Lisbon (Bed & Breakfast, $$)
This small B&B is located near the LX Factory and is another suitable option for those who want a quieter stay. You can choose between inexpensive private rooms without a private bathroom as well as rooms with a private bathroom. In addition to friendly service and a great view, this guesthouse also has a communal kitchen.
---
Any things to do in Lisbon, Portugal or Lisbon Tips you'd like to add?
I wrote this Lisbon travel guide based on my own travel experience. If you have been to Lisbon as well and you have something to add to this list of things to do in Lisbon please feel free to leave a comment below. In case you liked the guide and found it helpful, I would appreciate if you could share it with your friends or link to it from your homepage!

---
Disclosure: This post not only gives you my best Lisbon Tips contains Affiliate Links for services and products I'm using on my travels therefore I can highly recommend them. By using these links you won't pay any additional fees! All recommendations, tips, opinions, and ironic remarks are, as always, my own.
---